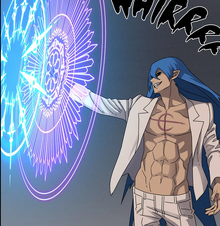 Appearance
Galhwa is tall and has long black hair. Normally frowning, He wears a school uniform just about all the time, and is usually seen with a white headband to keep his bangs out of his face (as stated in episode 40.5). In episode 37, He is seen wearing a black leather jacket. After he gains Beelzebub's powers, He wears a white jacket, white pants, and white shoes. He has also been called "Emo-Hair" by Kim Youngjoon (refer to episode 15).
Personality
Jae Galhwa is ruthless and sadistic to anyone he sees in his way even if they are older than him, taller than him, or women. He likes to bully people because he either sees them as a loser or weaker than him. Which is partially due to his abusive father.
Powers and Abilities
Up until chapter 52, Jae Galhwa doesn't have powers but he is strong enough to fight multiple people at the same time and fast enough to keep up with Wie Jinoh and break his arm and has an indomitable willpower to match.
Beelzebub's Powers
In chapter 52, Galhwa gains all of Beelzebub's powers after overpowering him.
Gabriel's Holy Powers
Galhwa also possesses Archangel Gabriel's powers due to being a reincarnation of Wagner, a human who was favored by Gabriel.